University Jobs
BOU Job Circular 2023 – বাংলাদেশ উন্মুক্ত বিশ্ববিদ্যালয়ে (বাউবি) নিয়োগ বিজ্ঞপ্তি ২০২৩
Bangladesh Open University BOU Job Circular 2023 has been published on their website. BOU Job Circular 2023 details are available on our website. This post is important for you if you want to work at Bangladesh Open University. Interested candidates can find all information concerning Bangladesh Open University Job Circular 2023.
Bangladesh Open University Job Circular 2023
The Bangladesh Open University or BOU is a public university with its main campus in Board Bazar, Gazipur District, Dhaka Division. It is the 7th largest university in the world according to enrolment. The university was established on 21 October 1992.
Bangladesh Open University Jobs opportunity for all employed / unemployed people. Graduate pass, HSC pass, Diploma pass candidates are eligible to apply BOU Application. You have to apply if you're qualified for Bangladesh Open University govt job circular. Submit your job application Form on BOU website .
আরো জানুুন
বাংলাদেশ উন্মুক্ত বিশ্ববিদ্যালয়ে বিএ/বিএসএস ভর্তির বিজ্ঞপ্তি
বাউবি এর বিএ/বিএসএস পরীক্ষার রেজাল্ট দেখুন
বাংলাদেশ উন্মুক্ত বিশ্ববিদ্যালয়ের এইচএসসি রেজাল্ট প্রকাশিত
BOU Job Summary
| | |
| --- | --- |
| Institute Name: | Bangladesh Open University |
| Post Name: | See the recruitment notice below |
| Job Location: | BOU Head Office or Regional Office |
| No. of Vacancies: | See circular image |
| Job Type: | Govt University Jobs |
| Publish Date: | Official Website, 08 August 2023 |
| Application Deadline: | 30 August 2023 |
Bangladesh Open University Job Circular 2023 image / PDF Download
See the notice to get detailed information about Bangladesh Open University Job Announcement 2023. So please see BOU Job Notice 2023 below.
Source: Prothom Alo, 08 August 2023
Application Deadline: 30 August 2023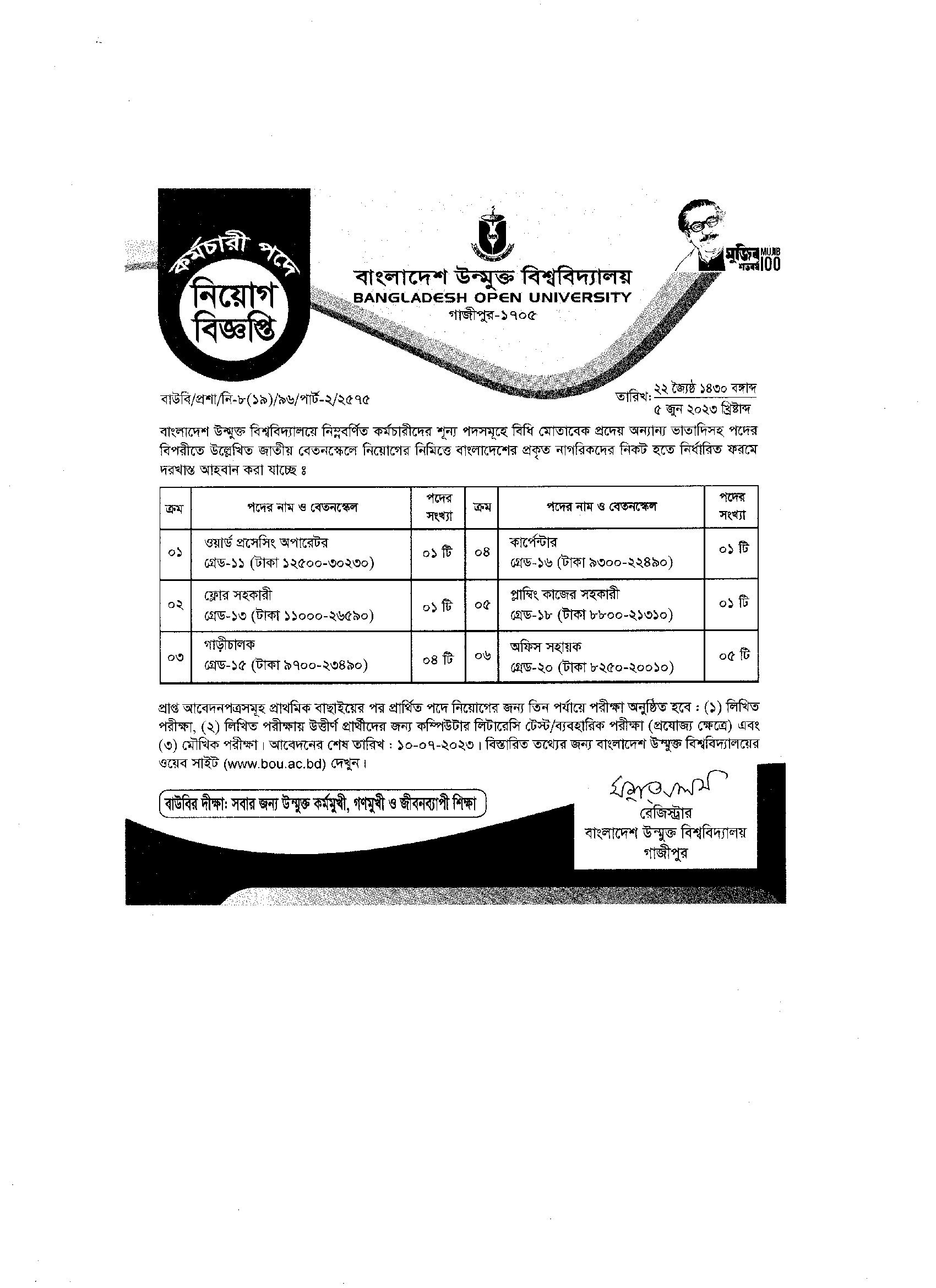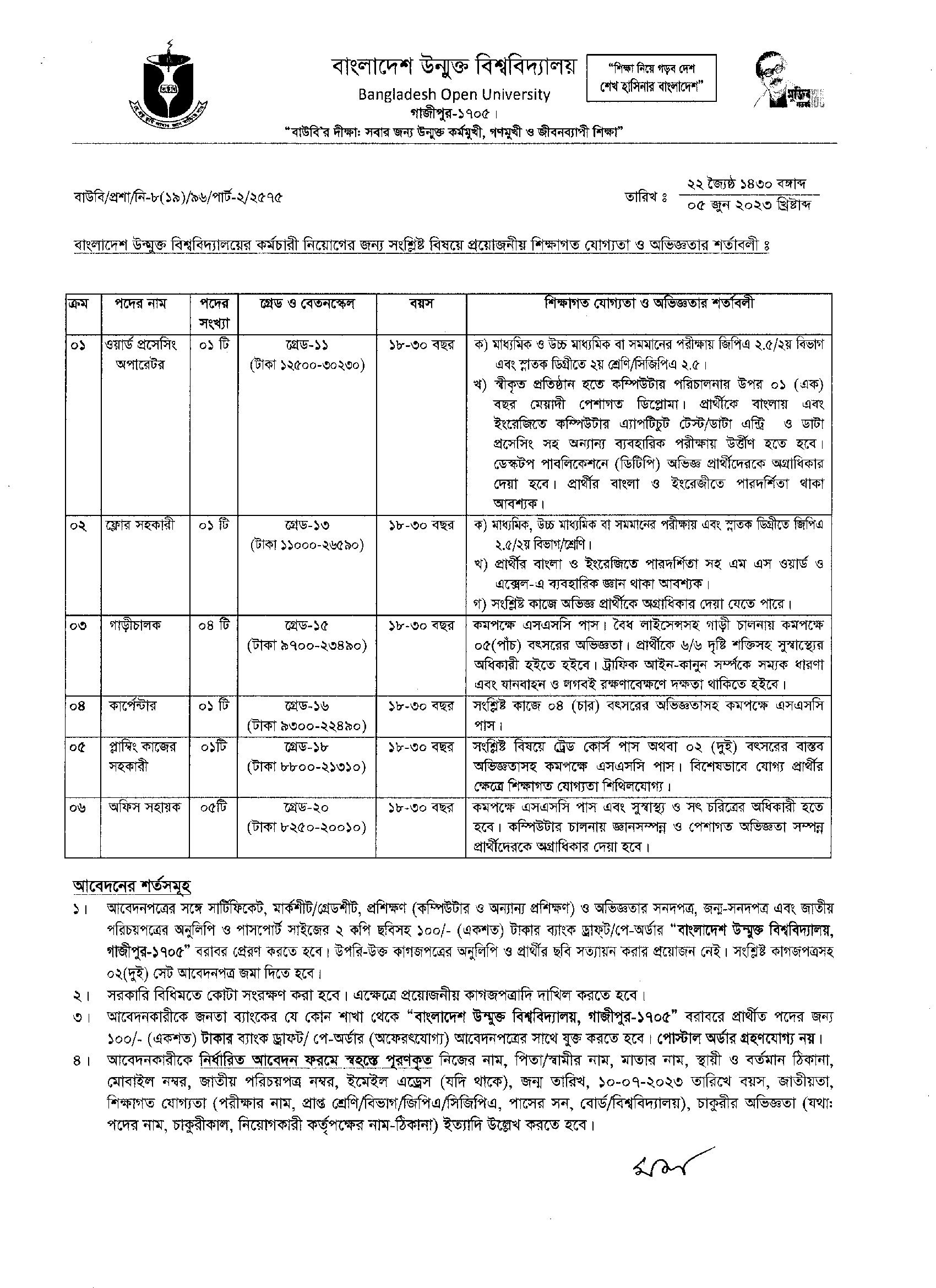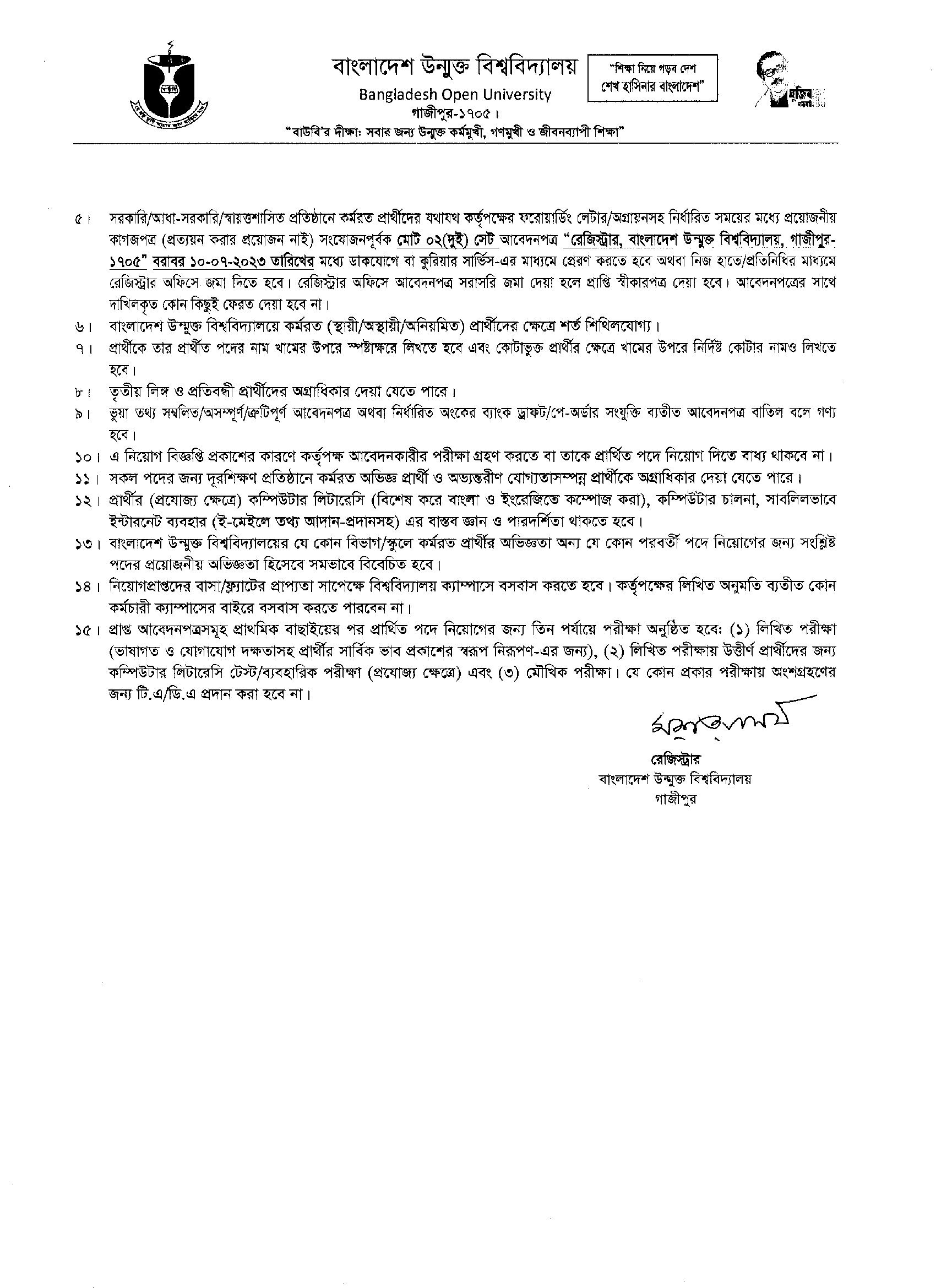 Application Last Date: 10 July 2023
সম্পূর্ণ নিয়োগ বিজ্ঞপ্তি সম্পর্কে জানতে এই লিংক থেকে ডাউনলোড করুণ
বিভিন্ন বিশ্ববিদ্যালয়ে নিয়োগ বিজ্ঞপ্তি দেখুন এখানে
Those who want to work in Bangladesh Open University have not downloaded the job application form from below.
Download the Job Application Form
How to Apply for BOU Job Circular?
The applicant for the job at Bangladesh Open University has to fill in the prescribed application form manually. You can download the application from this link.
The applicant should send a total of 02 sets of application forms along with required documents to the Registrar, Bangladesh Open University, Gazipur-1705 by post or courier service by 10/07/2023 or submit it to the Registrar's Office by hand/representative. If the application is submitted directly to the Registrar's Office, acknowledgment of receipt will be given.
বাংলাদেশ উন্মুক্ত বিশ্ববিদ্যালয়ে চাকরি জন্য আবেদনকারীকে নির্ধারিত আবেদন ফরমে স্বহস্তে পূরণকৃত আবেদন করতে হবে। আবেদন ফরমটি ডাউনলোড করতে পারবেন এই লিংক থেকে। আবেদনকারীকে প্রয়োজনীয় কাগজপত্র সহ মোট ০২ সেট আবেদপত্র, রেজিস্ট্রার, বাংলাদেশ উন্মুক্ত বিশ্ববিদ্যালয়, গাজীপুর-১৭০৫ বরাবর আগামী ১০/০৭/২০২৩ তারিখের মধ্যে ডাকযোগে বা কুরিয়ার সার্ভিস-এর মাধ্যমে প্রেরণ করতে হবে অথবা নিজ হাতে/প্রিতিনিধির মাধ্যমে রেজিস্ট্রার অফিসে জমা দিতে হবে। রেজিস্ট্রার অফিসে আবেদনপত্র সরাসরি জমা দেয়া হলে প্রাপ্তি স্বীকারপত্র দেয়া হবে।