45th BCS Exam Date & Seat Plan 2023 Released by Bangladesh Public Service Commission (PSC). As per the new schedule, this BCS MCQ exam will start on 19 May 2023. Written examinations of compulsory subjects will commence on 24 July and will continue till 31 July.
৪৫তম বিসিএ প্রিলিমিনারী পরীক্ষার আসন বিন্যাস এবং পরীক্ষার তারিখ 2023 প্রকাশ করেছে বাংলাদেশ পাবলিক সার্ভিস কমিশন (পিএসসি)। নতুন সময়সূচী অনুসারে, এই বিসিএসের লিখিত পরীক্ষা ১৯ মে ২০২৩ থেকে শুরু হবে।
BCS technical/professional cadres were scheduled to begin on 2 August. It would now begin on 5 September 2023 and will continue till 7 September 2023.
বিসিএস চাকুরি বিজ্ঞপ্তি দেখুন এখান থেকে
45th BCS Exam Date and Seat Plan 2023
The 45th BCS Exam Circular was published on 30 November 2022, the preliminary (MCQ) exam has been starting on 19 May 2023 and the seating plan was published on 19 March 2023. 45th BCS written exam would be taken from 24 July to 04 August 2023. Job-related written exam details schedule published here. see your seat location. 45th Written Exam total candidate 15229 for the compulsory subject exam.
বিভিন্ন চাকরি পরীক্ষার সময় ও বিজ্ঞপ্তি দেখুন
৪৫তম বিসিএস প্রিলিমিনারি পরীক্ষার নম্বর বণ্টন ও সিলেবাসঃ
| | |
| --- | --- |
| বাংলা ভাষা ও সাহিত্য | ৩৫ |
| English Language and Literature | 35 |
| বাংলাদেশ বিষয়াবলি | ৩০ |
| আন্তর্জাতিক বিষয়াবলি | ২০ |
| ভূগোল (বাংলাদেশ ও বিশ্ব.) পরিবেশ ও দুর্যোগ ব্যবস্থাপনা | ১০ |
| সাধারণ বিজ্ঞান | ১৫ |
| কম্পিউটার ও তথ্য-প্রযুক্তি | ১৫ |
| গাণিতিক যুক্তি | ১৫ |
| মানসিক দক্ষতা | ১৫ |
| নৈতিকতা, মূল্যবোধ ও সুশাসন | ১০ |
| মোট | ২০০ |
৪৫তম বি.সি.এস-২০২৩ এর প্রিলিমিনারী পরীক্ষার কেন্দ্রভিত্তিক পরীক্ষা সূচি, হলভিত্তিক আসনব্যবস্থা এবং গুরুত্বপূর্ন নির্দেশনা প্রকাশিত হয়েছে আজ।
Official Exam Notice Link: Click here to see the Official Exam Notice
Visit here to check 45th BCS center wise exam schedule, hall wise seat arrangement
৪৫ তম বিসিএ পরীক্ষার আসন বিন্যাস ও পরীক্ষার তারিখ ২০২৩ প্রকাশিত
৪৫তম বিসিএস প্রিলিমিনারী পরীক্ষা তারিখ প্রকাশিত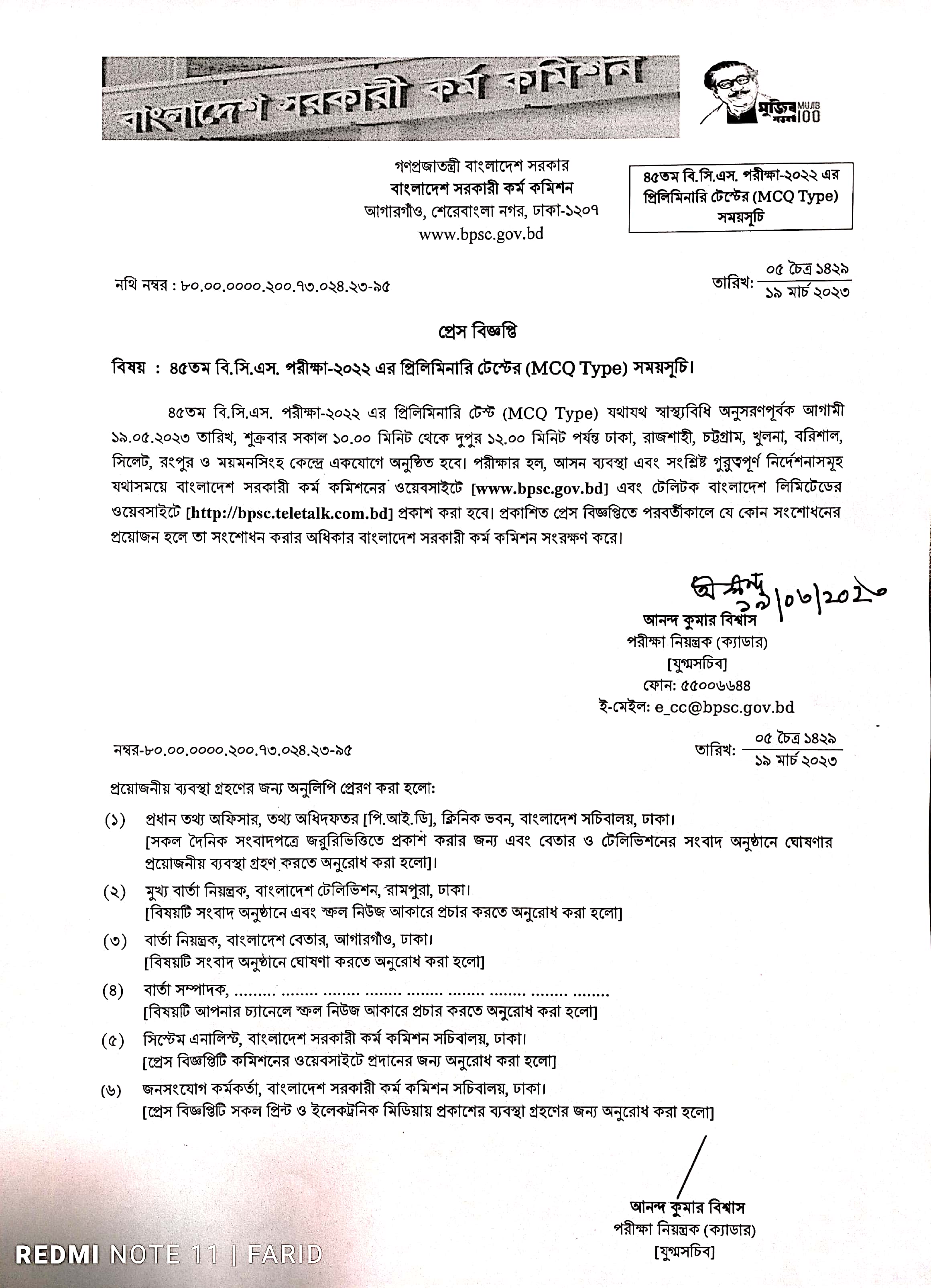 BPSC Written Exam Date 2023 Out – Bangladesh Public Service Commission
Download PDF BCS Written Exam Schedule 2022