Bangladesh Open University BOU BBA Admission Circular 2021-2022 has been published by the authority of Bangladesh Open University. Bangladesh Open University's BBA admission will start from 01 August 2022 to 20 October 2022. Read the full article before applying for BOU's BBA admission. You will get here all the information that you need. BBA Revised admission notice has been published, 221 semester application Deadline 20 October 2022
Bangladesh Open University BBA Admission Circular 2022
Bangladesh Open University School of Business Unit is inviting application for the Bachelor of Business Administration (BBA) program (211st Semester) and BBA in Bengali language. Online application can be submitted 01 October to 20 October 2022 in everyday.
BOU BBA Admission results here
বাংলাদেশ উন্মুক্ত বিশ্ববিদ্যালয়ের অধীনে এইচ এস সি পরীক্ষার রুটিন দেখুন
বাংলাদেম উন্মুক্ত বিশ্ববিদ্যালয়ে চাকরির বিজ্ঞপ্তি দেখুন
Eligible and interested candidates should also apply online here. The application fee is 500 Taka and 508 Taka including service charge. Applicant should make payment through Mobile Bank Bikash or SureCash.
After submitting the application online, applicants can download their admit card. Candidates have to bring admit card and national identity card to participate in the admission test.
BOU BBA Admission Circular 2022 – বাউবি বিবিএ ভর্তি বিজ্ঞপ্তি ২০২২
All Eligible candidate have to apply by Bangladesh Open University distributed application form. Applicant may collect admission from by Tk. 100/- from any study centers during office hour Application from have to submit where it is collected. Students must be submit recent 3 copy attached photograph, all educational certificate and mark sheet and chatterer certificate with from.
Bangladesh Open University (BOU) BA/BBA Admission 2021-2022 when extend date. We will publish notice date here. If you will be eligible and interested then you could admit yourself through OSAPS (Online service & payment system). All centers have not BA/BBA program. So, don't late contact your Local Branch with the full required information. Fill the Application Form in four steps. Here, we will give you full information to the Online Application Form fill up.
BOU BBA Programs Admission Date Extended
Bangladesh Open University BBA Program, 1st Phase: 04 Year Duration (Academic Year : 2021-2022) application deadline extended as follows. Earlier admission deadline was till 31 July 2022 now extended till 21 August 2022.
বাংলাদেশ উন্মুক্ত বিশ্ববিদ্যালয়ে বিবিএ (বাংলা) ০৪ বৎসর মেয়াদী প্রোগ্রাম, ১ম পর্ব: ০৪ বছর মেয়াদি (শিক্ষাবর্ষ : ২০২১-২০২২) এর ভর্তির আবেদনের সময়সীমা বৃদ্ধি করা হয়েছে।
| | | |
| --- | --- | --- |
| বিষয় | পূর্বের তারিখ | বর্ধিত তারিখ |
| বিবিএ (বাংলা মাধ্যম) ২০২২ ব্যাচে ভর্তির তারিখ | ৩১/০৭/২০২২ তারিখ পর্যন্ত | ২১/০৮/২০২২ তারিখ পর্যন্ত |
বাংলাদেশ উন্মুক্ত বিশ্ববিদ্যালয়ের বিবিএ কোর্সে ভর্তির যােগ্যতা
বিবিএ (বাংলা মাধ্যম) প্রােগ্রামে ভর্তিচ্ছু প্রার্থীকে ভর্তির আবেদনের জন্য অবশ্যই একাডেমিক পরীক্ষায় ৮ পয়েন্টের মধ্যে ন্যূনতম ৫ (পাঁচ) পয়েন্ট থাকতে হবে। এরপর বিবিএ প্রােগ্রামে ভর্তির পূর্বে প্রার্থীর আবেদন পত্র যাচাই-বাছাই করা হবে/ প্রার্থীকে মৌখিক সাক্ষাৎকারে অংশগ্রহণ করতে হবে।
See the details information of Bangladesh Open University BBA Admission Circular: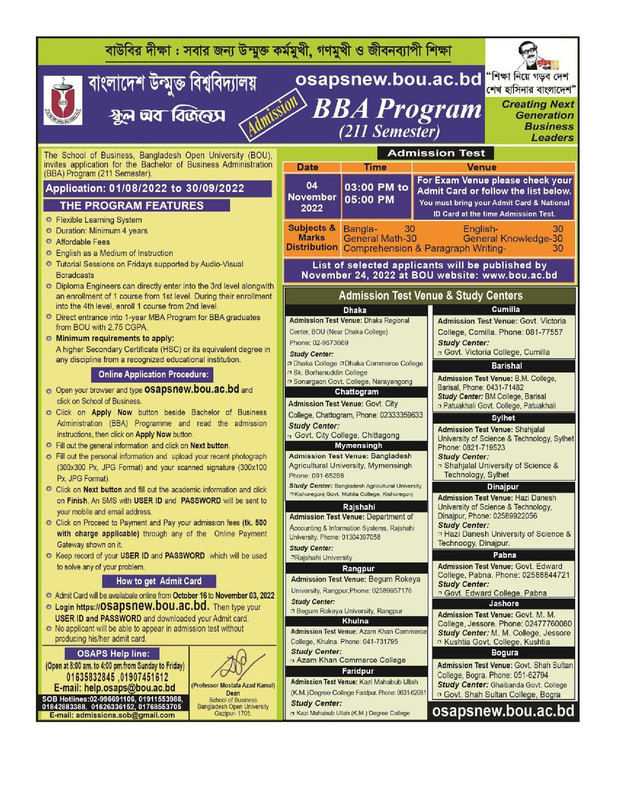 BOU BBA Admission Test and Result
The admission test will be held on 04 November 2022 from 03:00 PM to 05:00 PM.
The result of the entrance exam will be published on 24 November 2022.
Bangladesh Open University authorities have already released the notification extending the admission date and time for the 2021-2022 session students for BBA Honors program. So, you can apply within their date and time. Recently, they have extended the admission date and time for 2022 session. Applicants have to collect admit card and seat plan from RRC & Sub regional center. Finally selected students list and admission result will publish within November 24, 2022 by BOU
BOU BBA Admission requirements for apply:
Admission Eligibility the candidate must have passed HSC/equivalent exam.
বাউবি এর বিএ/বিএসএস এর ভর্তির রেজাল্ট দেখুন এখান থেকে
How to Apply BOU BBA Admission Online
All eligible and interested students must have applied Online. You cannot apply in a way other than way. So you need to follow the instruction below You have to apply by this link http://osaps.bou.edu.bd. Please follow the instruction as follows-
First, go to http://osaps.bou.edu.bd.
Choose your Semester, Year, Term, Group, Regional Center, Sub-Regional and Study Center.
Now, press the 'Next' button.
Then provide your all personal information as Your Name, Father's and Mother's name in Bengali & English.
Now, give your 'Academic Information'.
Upload your recent scanned photo (300 × 300 pixels) and upload your signature (300 × 100 pixels).
Fill in your Job History and press Submit Button.
Then you will receive a temporary User ID and Password.
Now pay Application Fee through User ID and Password by Rocket/bKash/Sure-cash
BOU Admission Test Venue & Study Center
Dhaka
Admission Test Venue. Dhaka Regional Center,
BOU(Near Dhaka College)
Phone. 9673669
Study Center.
Dhaka College,
Dhaka Commerce College,
SK. Borhanuddin College,
Sonargaon Govt. College, Narayangong