Exam Date
DESCO Exam Date and Admit Download 2023
DESCO Exam Date and Admit Download 2023: Dhaka Electric Supply Company Limited (DESCO) has been announced the exam date for the some post on their official website https://www.desco.org.bd/. DESCO MCQ Exam Date and Admit Card Download 2023 is good news for job seekers. All information on the Dhaka Electric Supply Company Exam Date 2023 is available below. Dhaka Electric Supply Company (DESCO) is a Government organization in Bangladesh.
A large number of candidates spontaneously attend in DESCO job exam test. According to the desco job circular, only qualified candidates will get this job. Candidates prepare themselves for oral tests after the release of the Desco MCQ result. In this case, candidates who pass the viva voice will be appointed. However, you can download Desco results from our website. So without wasting time let's begin.
Recent Job Question Solution
Dhaka Electric Supply Company DESCO Exam Date 2023
You are a job aspirant and you have appeared on the exam date. Now you want to collect admit cards very quickly. But you still don't know how to get admit card download. So, the best way is to get the exam date from the official website whose link is http://desco.gov.bd/
বিঃ দ্রঃ বর্তমানে নিম্নোক্ত পদ গুলির জন্য প্রবেশ পত্র ডাউনলোডের ব্যবস্থা রয়েছেঃ
Engineer (Electrical and Electronics Engineering/Mechanical Engineering)
Assistant Engineer (CS/CSE/ECE)
Sub-Assistant Engineer (Electrical)
Sub-Assistant Engineer (Computer)
Junior Assistant Manager (Admin)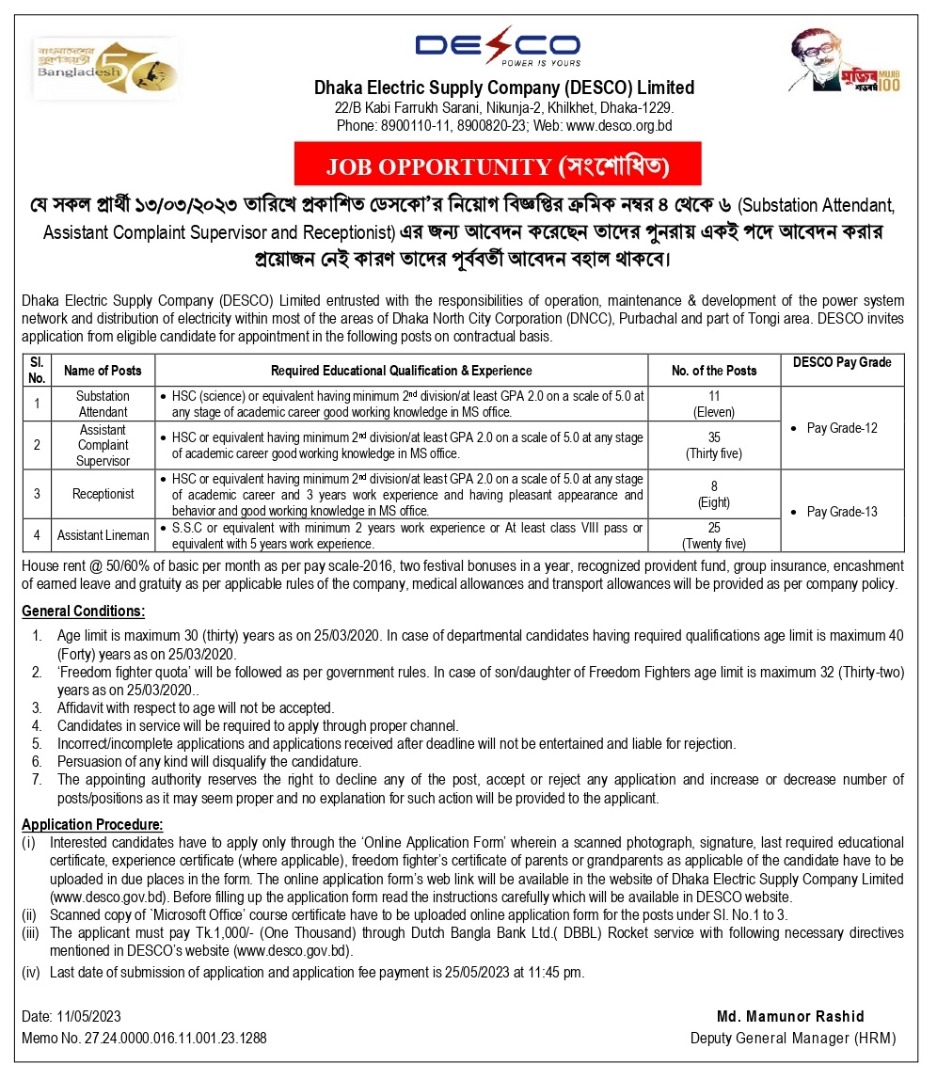 DESCO Admit Card 2023
It is good news for DESCO applicants that the Dhaka Electric Supply Company written exam is going to be held on time. So as a candidate prepare yourself for the MCQ exam. Dhaka Electric Supply Company (DESCO) offers a good salary. On the other hand, many opportunities are provided to their employees.
However, if you are interested in the DESCO job exam as a fresher then get proper knowledge about Dhaka Electric Supply Company Question Pattern and Mark Distribution. In this case, you can follow the previous year's question bank of DESCO.
এডমিট কার্ড ডাউনলোড  করুন 

Desco Seat Plan 2023
We will publish on our website when the DESCO authorities release the job exam date and seat plan. After downloading DESCO Job Admit Card read it carefully. Follow the general instruction of DESCO in the examination hall, which is mentioned in the Dhaka Electric Supply Admit Card. Maintain silence in the exam room. Keep the admit card with you. Avoid mobiles, smart watches, and calculators. If everything goes well, the exam will be held on the specified date.
However, the DESCO authorities may change the exam date at any time. In this case, they will inform you through SMS. Finally thanks and best wishes.