Exam Result
Fire Service and Civil Defense Exam Result 2023 – ফায়ার সার্ভিস নিয়োগ পরীক্ষার ফলাফল ২০২৩
Fire Service and Civil Defense Exam Result 2023 Published. Are you looking for fire service exam results? If you are looking then you have come to the right place. We publish fire service exam results in this article. We publish all Bangladesh government job recruitment circulars and various exam results on our website.
We publish the official notice on our website as soon as the result is declared by the authority. If you want, you can download the official notification of the Fire Service Recruitment Exam Result from this article.
Fire Service and Civil Defense Exam Result 2023
Bangladesh Fire Service and Civil Defence is a Govt Institution in our country. Here publish the fire service exam results along with the exam schedule in this article. If you are interested in getting updated information about the fire service oral exam schedule then don't forget to visit our website. Detailed information about the exam schedule is given below.
Fire Service Exam Result Official Notice
The under-mentioned roll-numbered candidates who participated in the written test held on October 10, 2023, for recruitment to the post of a firefighter under the Directorate of Fire Service and Civil Defense have been selected for the oral test.
Bangladesh Fire Service & Civil Defence Viva Exam Notice 2023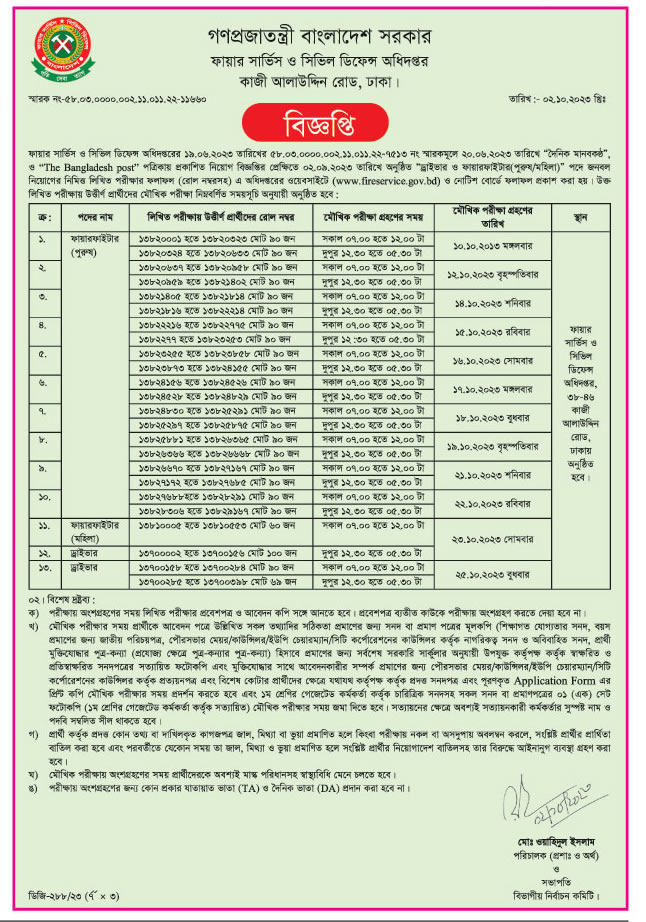 Fire Service Viva Date 2023
ফায়ার সার্ভিস ও সিভিল ডিফেন্স অধিদপ্তরের আওতাধীন ফায়ারফাইটার পদে জনবল নিয়োগের লক্ষ্যে ১২ আগস্ট, ২০২৩ তারিখে অনুষ্ঠিত লিখিত পরীক্ষায় অংশগ্রহণকারী নিম্নবর্ণিত রোলনম্বরধারী প্রার্থীগণ মৌখিক পরীক্ষার জন্য নির্বাচিত হয়েছেন।
মৌখিক পরীক্ষার সময়সূচী
উত্তীর্ণ প্রার্থীদের মৌখিক পরীক্ষা নিম্নবর্ণিত সময়সূচি অনুযায়ী ফায়ার ও সিভিল ডিফেন্স অধিদপ্তর, ৩৮-৪৬ কাজী আলাউদ্দিন রোড, ঢাকায় অনুষ্ঠিত হবে।