The National University honors 3rd year exam form fill up has been published today. National University 3rd year exam will be started very soon. Exam related all information will be found in National University (NU) website at www.nu.ac.bd and also in our website.
The applicant himself or the college authority should go to the website of the National University www.nubd.info/honours and fill the application form properly with the registration number and download the print copy and submit it to the respective department along with the fee within the prescribed time. The national university form fill-up circular this form fill up will start on 19 December 2022 and will end on 19 January 2023. For more about Honours 3rd-year form fill up Circular Every student can Visit the www.nubd.info/honours website.
NU Honours 3rd Year Exam Form Fillup 2022
National University honours 3rd year form fill up date will begin on 19 December 2022 & dead time of application will be on 19 January 2023. Online Data entry last date will on 22 January 2023 at 11:59 pm. Application charge payment date will start on 23 January 2023 at 10:00am & ending time will 25 January 2023 at 04:00 pm.
NU Honours 3rd Year Form fill up Payment Method
Apply fee will be paid by "Sonali Seba". Statement of the form & other documents submission last date will be on 25 January 2023. For form fill up payment every student can make their payment online through Sure Cash or Sonali Seba or college can give their selected bank slip with AC number. Payment must be made within the last day of Sonali Sheba.
জাতীয় বিশ্ববিদ্যালয় অনার্স ৩য় বর্ষের ফরম ফিলাপ ফি
| | |
| --- | --- |
| নিয়মিত প্রতি শিক্ষার্থী | ২৭৫০/- টাকা |
| মানউন্নয়ন প্রতি ১ বিষয় | ১০০০/- টাকা |
| মানউন্নয়ন প্রতি ২ বিষয় | ১২৫০/- টাকা |
অনার্স ৩য় বর্ষের ফরম ফিলাপ ২০২২ বিজ্ঞপ্তি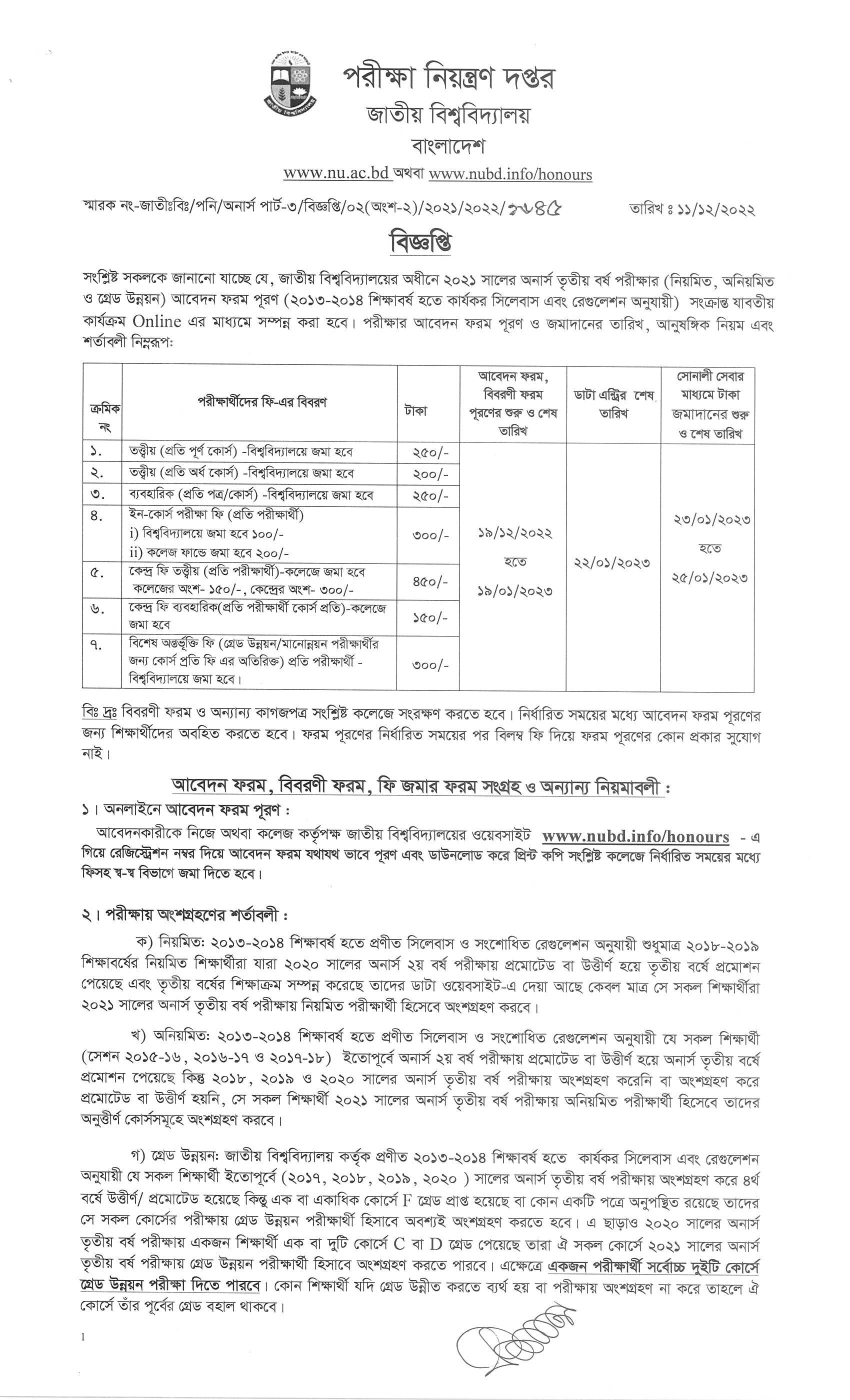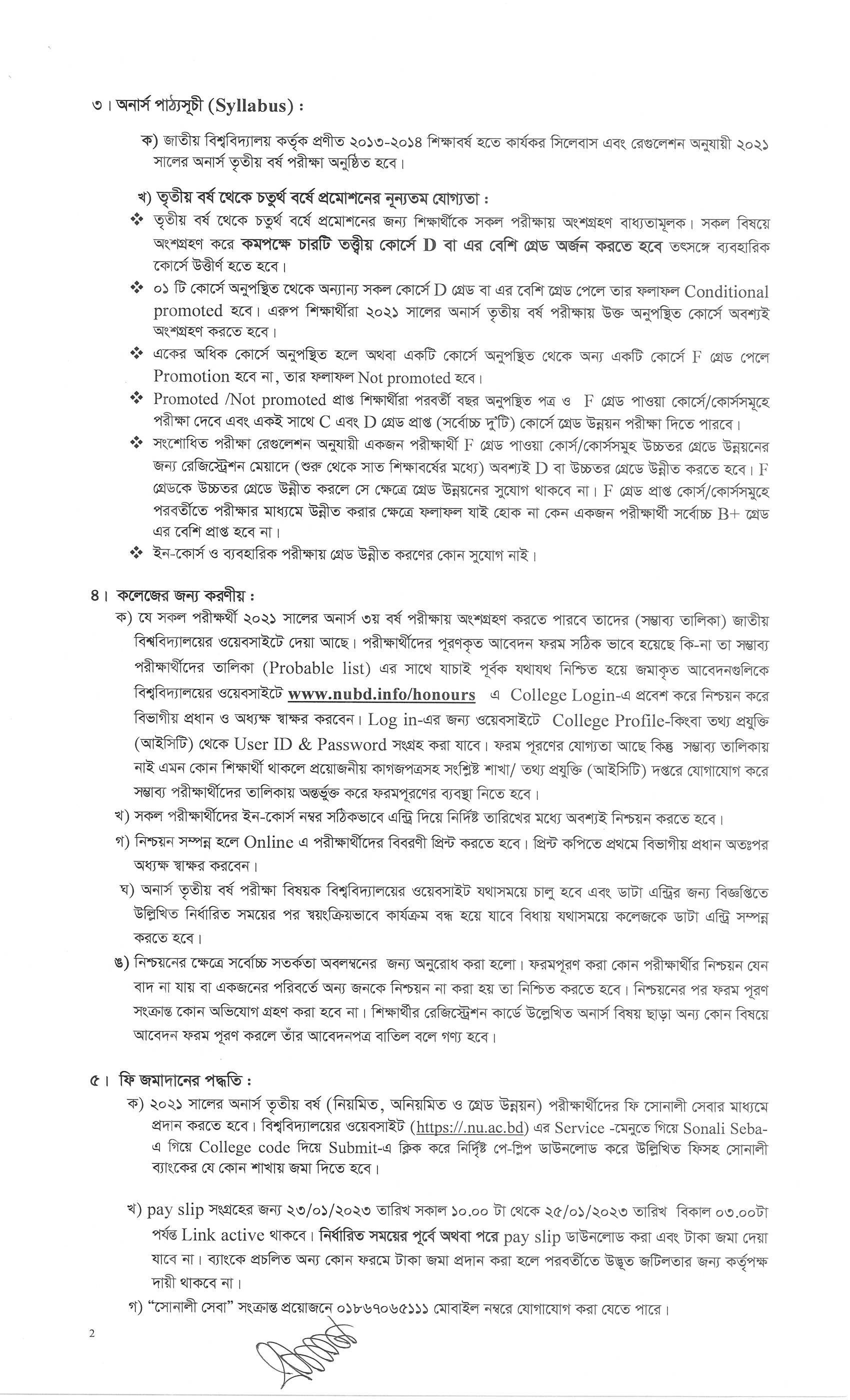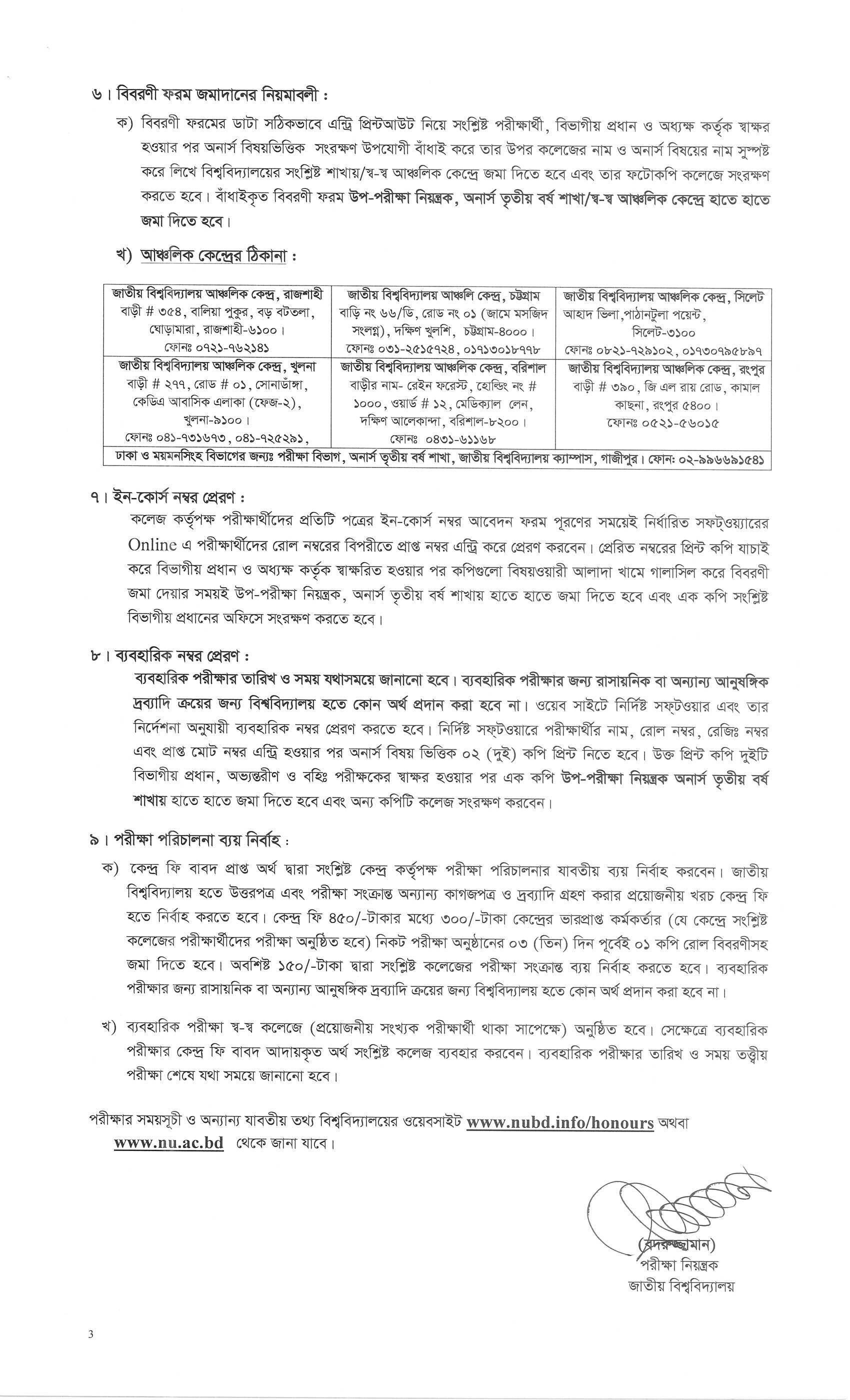 National University Honours 3rd Year Exam Routine
Every student has to collect the application Form online and fill it up their own hand with the candidate's signature. Form and charge have to submit to the departmental head of own college. They should check the exam roll number and registration number. If any student gets his/her admit card with some wrong information, she/he has to correct it by charging Tk. 450/= within due time. The Authority of NU Publish a notice About honors 3rd-year form fill up notice, Then They Complete The Process Online. After That NU Honours 3rd Year Routine Publish at the official site www.nu.edu.bd However, When The NU Honours 3rd Year Exam is Complete, the Result publishing Process Starts by The Authority. National University Result Details Can be Found From This link NU Honours 3rd Year Result.