Exam Date
NU Job Exam Date, Admit Card Download 2022- জাতীয় বিশ্ববিদ্যালয়ে নিয়োগ পরীক্ষার তারিখ প্রকাশিত
National University is one of the largest public universities in Bangladesh. The National University published a huge recruitment circular last May to recruit their manpower. National University NU Job Exam Date will be held on 2nd December 2022.
So, a university job is the most prestigious job than any other job. Job circular is very happy news for every unemployed. All information regarding National University Job Circular 2022 is available on our website. You can find all details in this job circular.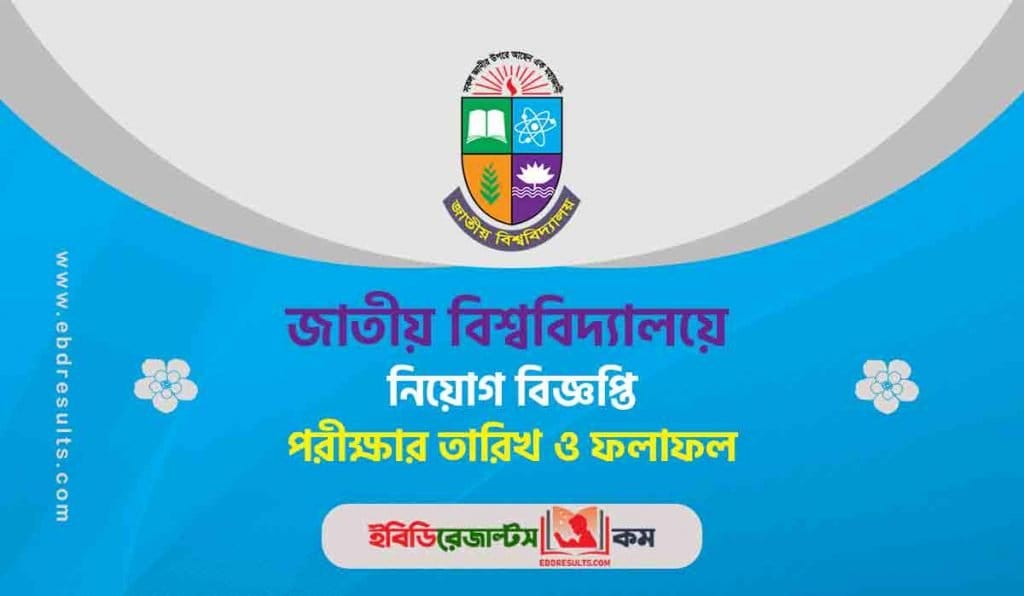 National University NU Job Exam Date 2022
National University plays a very important role in the education of Bangladesh. The education system of National University is spread all over the country. The National University has six regional offices Such as..
Chittagong Regional office
Barisal Regional Office
Khulna Regional Office
Rajshahi Regional Office
Syleht Regional Office
Rangpur Regional Office
So these offices require a large number of people to work. Next December 2022 recruitment exam is going to be held in National University. A good news for those who are eagerly waiting.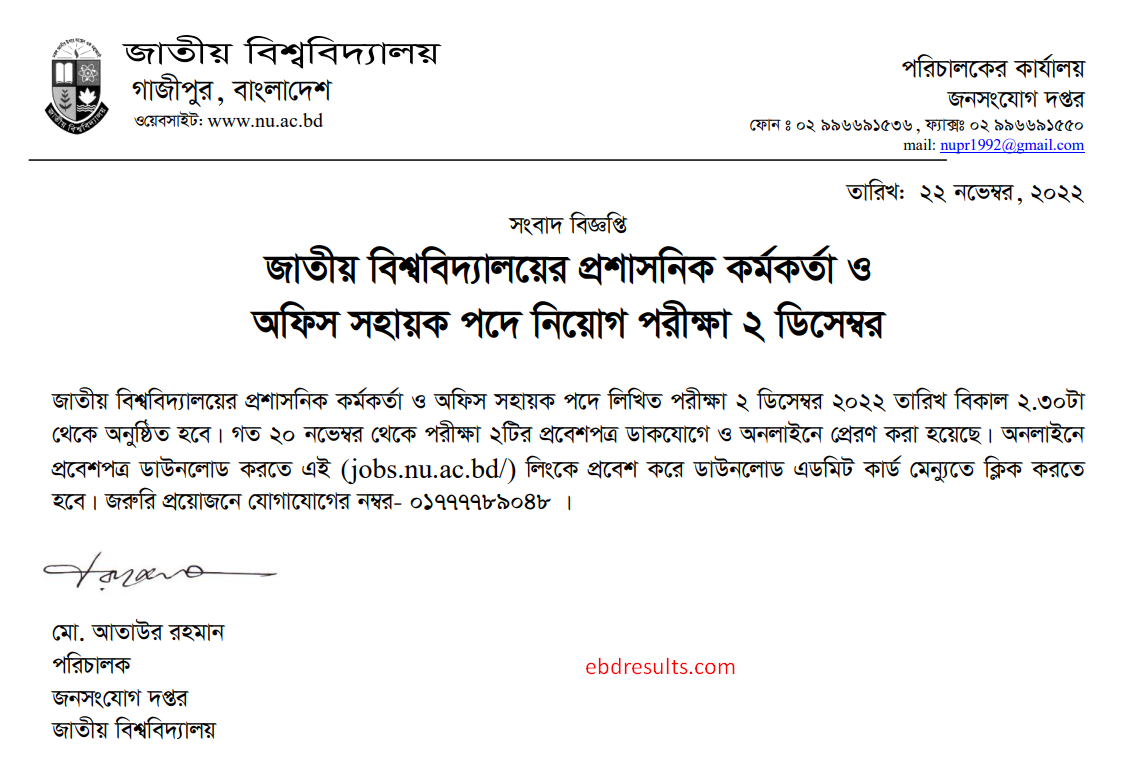 The recruitment exam will be held on 02 December 2022. They are administrative officers and office assistants.
জাতীয় বিশ্ববিদ্যালয়ে বিভিন্ন পদে জনবল নিয়োগের জন্য গত মে মাসে বিশাল নিয়োগ বিজ্ঞপ্তি প্রকাশ করে। এই নিয়োগ বিজ্ঞপ্তির মাধ্যমে শিক্ষক, কর্মকর্তা, কর্মচারী সহ মোট ১১৩ জন নিয়োগ দিবে।
জাতীয় বিশ্ববিদ্যালয়ের এক বিশেষ সূত্রের মাধ্যমে জানা গেছে আগামী ০২ ডিসেম্বর ২০২২ তারিখে ০২ টি পদে নিয়োগ পরীক্ষা অনুষ্ঠিত হবে। পদগুলো হলো প্রশাসনিক কর্মকর্তা ও অফিস সহায়ক পদে নিয়োগ পরীক্ষা অনুষ্ঠিত হবে। এইসব নিয়োগ পরীক্ষা ঢাকা নটরডেম কলেজে অনুষ্ঠিত হবে।
NU Job Circular Details
| | |
| --- | --- |
| Organization: | National University (NU) |
| Posts: | 113 |
| Online Application Start: | 16 May 2022 |
| Last Date of Application: | 15 June 2022 |
Employee (48)
Officer (40)
01. Name of Post: Upper Division Assistant
Grade: 13
Number of vacancies: 10
01. Name of Post: Director (Regional Center)
Grade: 03
Number of vacancies: 01
02. Name of Post: Data Entry Operator
Grade: 13
Number of vacancies: 05
02. Name of Post: Network Administrator
Grade: 05
Number of vacancies: 01
03. Name of Post: Staff Nurse
Grade: 13
Number of vacancies: 01
03. Name of Post: Database Administrator
Grade: 05
Number of vacancies: 01
04. Name of Post: Medical Assistant
Grade: 13
Number of vacancies: 01
04. Name of Post: Executive Engineer
Grade: 06
Number of vacancies: 01
05. Name of Post: Office Assistant cum Computer Operator
Grade: 16
Number of vacancies: 10
05. Name of Post: Senior Medical Officer
Grade: 07
Number of vacancies: 01
06. Name of Post: Electrician
Grade: 16
Number of vacancies: 02
06. Name of Post: Law Officer
Grade: 08
Number of vacancies: 01
07. Name of Post: Cook
Grade: 18
Number of vacancies: 01
07. Name of Post: Assistant Programmer
Grade: 09
Number of vacancies: 04
08. Name of Post: Dispatch Rider
Grade: 18
Number of vacancies: 02
08. Name of Post: Administrative Officer
Grade: 10
Number of vacancies: 20
09. Name of Post: Assistant Cook
Grade: 20
Number of vacancies: 01
09. Name of Post: Sub-Technical Officer
Grade: 10
Number of vacancies: 10
10. Name of Post: Office Assistant
Grade: 20
Number of vacancies: 15