DGFood Exam Date 2022 and updated information regarding Food Exam Date, Admit Card, Seat Plan 2022 can be found here. All information related to DG Food exam can be found on official website of Food Department www.dgfood.gov.bd and our website ebdresults.com.
01(01) of the candidate's educational qualification and prescribed quota in favor of the prescribed quota. 1) Requested to be present at Food Directorate with set attested copy.
DGFood Exam Date 2022
খাদ্য অধিদপ্তরের ১১/০৭/২০১৮ তারিখের ১২২৯নং বিজ্ঞপ্তির পরিপ্রেক্ষিতে ৩য় শ্রেণির উপ-খাদ্য পরিদর্শক এর শূন্যপদে সরাসরি কোটায় নিয়োগের লক্ষ্যে ১৯/১১/২০২১ তারিখে বিভিন্ন শিক্ষা প্রতিষ্ঠানে এমসিকিউ/লিখিত পরীক্ষা অনুষ্ঠিত হয়। পরীক্ষার ফলাফল ১২/০১/২০২২ তারিখে প্রকাশ করা হয়। উক্ত পরীক্ষায় উত্তীর্ণ প্রার্থীদের মৌখিক পরীক্ষা নিম্নোক্ত তারিখ ও সময়সূচি অনুযায়ী খাদ্য অধিদপ্তরে (খাদ্য ভবন, ১৬ আব্দুল গণি রোড, ঢাকা-১০০) অনুষ্ঠিত হবে।
খাদ্য অধিদপ্তরের বিভিন্ন নিয়োগ পরীক্ষার প্রশ্ন ও সমাধান দেখুন
নির্ধারিত তারিখ ও সময়ে প্রার্থীগণকে শিক্ষাগত যোগ্যতা ও নির্ধারিত কোটার স্বপক্ষে যথাযথ কর্তৃপক্ষ প্রদত্ত সদস, মুক্তিযোদ্ধার নাতি/নাতনীর ক্ষেত্রে ওয়ারিশান সনদ ও পিতা/মাতার জাতীয় পরিচয়পত্রের কপি এবং প্রার্থীর জাতীয় পরিচয়পত্র/জন্ম নিবন্ধন সনদ, নাগরিকত্ব সনদ, প্রবেশপত্র ইত্যাদির মূলকপি এবং উল্লিখিত কাগজপত্রের ০১(এক) সেট সত্যায়িত কপিসহ খাদ্য অধিদপ্তর এ উপস্থিত থাকার জন্য অনুরোধ করেছেন।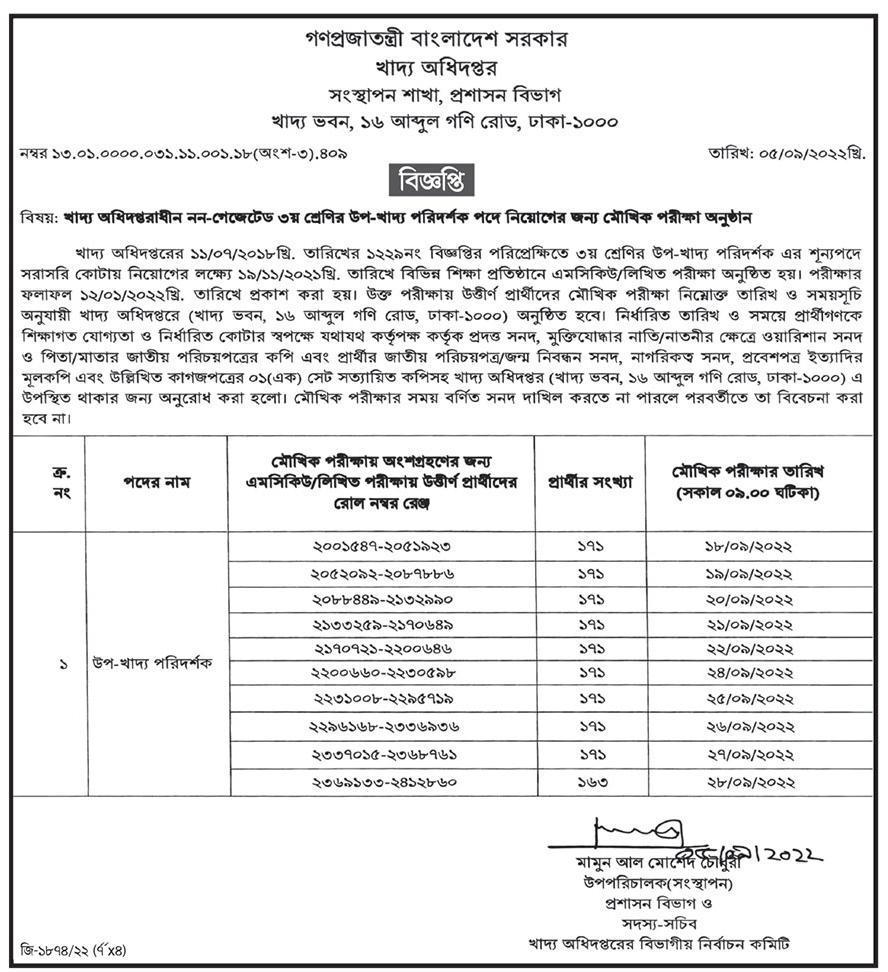 Sub-Food Inspector Viva Exam Date 2022
In view of Food Directorate's circular No. 1229 dated 11/07/2018, MCQ/Written Examination was held in various educational institutions on 19/11/2021 for direct quota recruitment to the post of 3rd Class Sub-Food Inspector. Exam result published on 12/01/2022. The oral examination of the candidates who have passed the examination will be held at the Directorate of Food (Khadya Bhawan, 16 Abdul Gani Road, Dhaka-100) as per the following date and schedule.